Rail line just one of numerous assistance projects
As the afternoon wore on, the crowd at the railway station in the Tanzanian port city of Dar es Salaam kept swelling.
Loudspeakers mounted in the waiting room continued to announce new departure times.
Asha Maimuna, a middle-aged passenger, said, "Our safe arrival is important, not really the departure time."
She was traveling to Mbeya, a little more than 800 kilometers from Dar es Salaam, to visit her parents. Some roads are impassable, she said, and journeys by road are prone to accidents.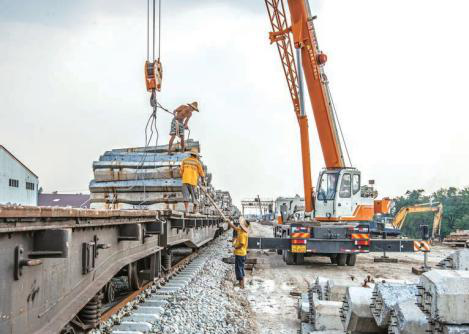 "The Makuba Express train is a necessity to many of us, despite the long delays and sluggish speed," Maimuna added.
The Tanzania-Zambia Railway Authority, or TAZARA, has been a lifeline for landlocked Zambia, and has created innumerable job opportunities for the two countries as the line snakes 1,860 km from Dar es Salaam to the copper town of Kapiri Mposhi in Zambia. It reflects China's efforts to provide aid to developing countries.
A white paper titled The Right to Development: China's Philosophy, Practice and Contribution, released in December 2016, said the country had provided about 400 billion yuan ($56 billion) in development aid to 166 countries and international organizations over the past 60 years.
It has trained more than 12 million people from developing countries and sent over 600,000 people to help development in other nations. Among them, 700 have given their lives in the course of these programs, the white paper said.
Assistance from China has made a significant contribution to improving the lives of those in the recipient countries.
For the past 43 years, Boniface Zimba has been taking the line operated by the Tanzania-Zambia Railway Authority to visit his family in rural Zambia.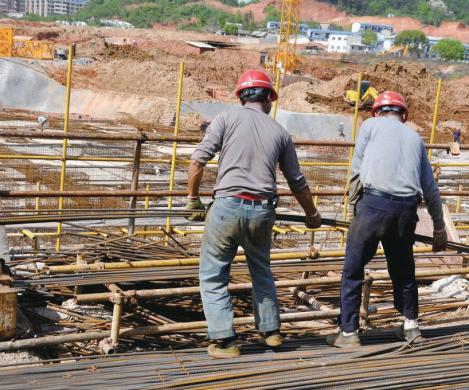 Sometimes, the 79-year-old runs into former workers from the authority, which he left 24 years ago. They always discuss how the China-built railway has boosted the economy and changed their lives.
"We were proud to build it," Zimba said. He left his mining job in 1970 to join 13,500 Chinese technical and engineering personnel and 38,000 Tanzanian and Zambian workers who helped establish the rail authority.
Zimba said the steady job and good pay enabled him and his wife to start a family and provide their eight children with an education.
The authority was funded by China and established between 1970 and 1975, with commercial operations starting in July 1976. It linked Kapiri Mposhi in Zambia to Dar es Salaam on the Tanzanian coast, providing freight and passenger services.
Wang Luo, director of the Institute of International Development Cooperation, responsible to the Chinese Academy of International Trade and Economic Cooperation at the Ministry of Commerce, said, "The railway has been an economic catalyst for eastern and southern African nations and a symbol of the friendship between China and Africa."
Emmanuel Matambo, an analyst at the Center for Africa-China Studies at the University of Johannesburg in South Africa, said, "The Tanzania-Zambia railway line played a seminal role in demonstrating China's solidarity with anti- colonial and anti-apartheid agitation in Africa."
He added that despite not functioning at its best, the line's ideological importance has been so influential that it has dispelled many arguments about China's alleged colonial or harmful designs on Africa.
"The railway authority was thus an altruistic contribution to Africa from a country that wants to be seen as a kindred spirit to the continent. It created the trust that China still enjoys in Africa today," Matambo said.
Maximum efforts
The idea to connect central and southern African countries with the east coast by a rail link can be traced as far back as 1947. Western nations were initially approached for help in building the line, but they rebuffed the idea, insisting that the project was not economically viable, according to the railway authority.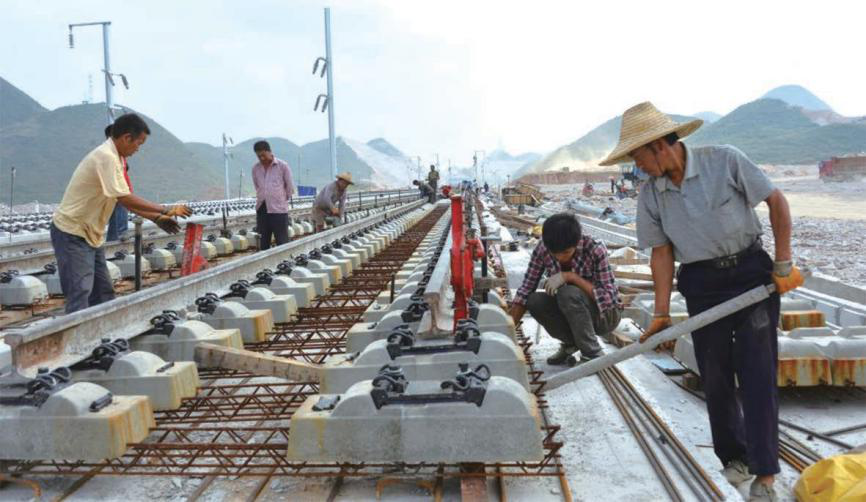 Although China was experiencing difficult times itself, it made maximum efforts to finance it as a turnkey project - one that is constructed so that it can be sold to a buyer as a completed project.
In 1970, Chinese inspectors walked for nine months from Tanzania to Zambia to mark the route. The difficulties in building the railway were immense, and more than 160 workers, including 64 Chinese, died during the construction, according to the authority.
Mark Mwandosya, former Tanzanian minister of communication and transport, said, "Those of us who are fortunate enough to have witnessed the construction will forever be grateful to China."
Official figures show that TAZARA has transported more than 30 million metric tons of cargo and over 40 million passengers since it started operating in 1976. During this time, China has offered technical support to enable the authority to function well.
The rail line has seen Kapiri Mposhi, which used to be a sleepy town, grow into a vibrant hub with a population of 300,000. It has also seen hotels and restaurants mushrooming to serve traders and workers from the railway authority.
Li Dechao, deputy managing director at China Civil Engineering Construction Co in Tanzania - TAZARA's Chinese operating company - said, "This infrastructure is a very important link to hinterland areas."
He added that as the rail line passes through underdeveloped rural areas in Tanzania and Zambia, it has become the lifeblood of local economic development.
In addition, it has fostered positive relations between Tanzania and Zambia due to the shared growth it has brought. Analysts in Africa believe that these gains from the project exemplify the anticipated benefits f rom future Sino- African cooperation.
TAZARA is just a tiny part of China's long-term and continuous foreign aid to African countries. Since 1956, all countries on the continent that have established diplomatic relations with China have received Chinese aid in various forms, according to Wang, from the Institute of International Development Cooperation.
"Africa has been in great need of foreign aid, as the continent has a large number of developing countries," she said. "China has attached great importance to the development of Africa, and more than 40 percent of China's foreign aid currently goes to the continent."
After the People's Republic of China was founded in 1949, the Chinese government decided to help developing countries that were in need, as well as promote the country's standing on the world stage.
At the time, Asian and African countries were winning their independence and were eager to obtain external development aid. Wang said that in view of this, and to widen its diplomatic reach, China strengthened its cooperation with and assistance to developing countries on both continents. Basic principle
China's foreign aid began in 1950, when it provided material assistance to two neighboring countries, the Democratic People's Republic of Korea and Vietnam. The basic principle for the country's foreign aid was formulated when Premier Zhou Enlai announced the Eight Principles for Economic Aid and Technical Assistance to Other Countries during his first visit to Africa from December 1963 to February 1964.
In the nearly 70 years since China began aiding foreign countries, it has always abided by the Eight Principles, whose key content embraces equality, mutual benefit and no political conditions.
"China's foreign aid is different from that of Western countries," Wang said. "We don't impose political strings, and we respect a recipient country's right in choosing its development path. Moreover, all our personnel for foreign aid share wealth and woes with African people and treat them just like brothers, which has impressed them a lot."
Chinese aid to Africa is also designed to help support the continent's development agenda, thus positioning China as a strategic alternative for such assistance.
George Nyongesa, a senior associate at the Africa Policy Institute, a think tank in Kenya, said: "China focuses on infrastructure development, which in turn facilitates follow-on investments. Additionally, as the West reduced aid to Africa in recent years, China has been ramping up its assistance and intends to set up an international development cooperation agency to coordinate its foreign aid."
Financial resources provided by China for foreign aid mainly fall into three types: grants, interest-free loans and concessional loans. The first two come from State finances, while concessional loans are provided by the Export-Import Bank of China as designated by the central government, according to the State Council Information Office.
China offers foreign aid in eight forms: complete projects; goods and materials; technical cooperation; human resource development cooperation; medical teams sent abroad; emergency humanitarian aid; volunteer programs in foreign countries; and debt relief.
Hisham AbuBakr Metwally, an economics researcher with the Egyptian Ministry of Foreign Trade and Industry, said Chinese aid has had a major impact on improving the lives of African people, as it targets basic services for citizens such as roads, railways and power stations, among others. China turned to the participation of African countries in achieving their development plans, which contributed greatly to the high growth rates in nations such as Mauritius, Ethiopia, Kenya and Egypt, he said.
Furthermore, there is a large funding gap between what African countries require for infrastructure development and the money available. China contributes significantly to financing infrastructure projects, as well as the creation of more industrial zones that the continent desperately needs, Metwally said.
While sticking to the core values of the Eight Principles, China has been keeping pace with the times to transform its foreign aid system and specific ways of providing such assistance.
Wang said that in the initial stage, a number of African countries had just won their independence and were in great need of foreign development aid. China provided this in the manner required. As the country was still a planned economy at the time, the central government assigned tasks mainly to State-owned organizations. "At the time, China was facing difficult situations both at home and abroad, and it provided all the assistance it could afford to African countries in their efforts to win independence and develop their economies, laying the foundation for a friendly relationship," Wang said.
In October 1971, China resumed its seat in the United Nations, with the support of developing countries, including those from Africa.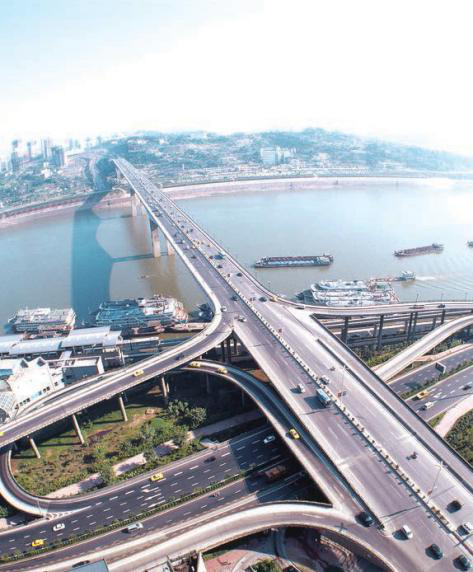 New road taken
After adopting the reform and opening-up policy in 1978, China started to develop a market economy, and its economic cooperation with other developing countries extended from economic aid to multiform and mutually beneficial cooperation.
"China adjusted the scale, arrangement, structure and sectors of its foreign aid in accordance with its actual conditions," Wang said. "It strengthened its foreign assistance to the least-developed countries and paid more attention to the economic and long-term effects of aid projects."
In 2000, the Sino-African relationship embarked on a new road when the Forum on China-Africa Cooperation was launched. This marked the transformation of the relationship from political and economic cooperation in limited areas to comprehensive cooperation in political, economic, social and cultural fields. Regular and frequent exchanges between China and Africa have been held since then.
Wang said Africa is no longer merely a continent that needs aid, it is a potentially big market. As African countries are at different levels of economic development, China is considering the kind of role the aid can play in advancing deeper and closer comprehensive economic and trade cooperation between the two sides.
"We consider how to use our aid to support the industrial development of African countries, consolidate their economic foundation and help them integrate with global development," she said.
In recent decades, Africa has witnessed far-reaching changes, and has seen one of the fastest rates of economic development globally, meaning there are now different requirements for aid from China, Wang added.
This year's Africa Economic Outlook from the African Development Bank shows that the continent's general economic performance continues to be encouraging. GDP growth reached an estimated 3.5 percent last year, about the same as in 2017 and up from 2.1 percent in 2016. Growth is projected to accelerate to 4 percent this year and to 4.1 percent next year.
"While African countries will still need funding, projects and materials, they now want to learn more about China's experience in governance and economic development, including how to stimulate market potential and the private sector," Wang said.
She added that faced with various demands for aid, China would consider its comparative advantages, and share more often with developing countries its solutions and experiences in governance and developing its economy.
"We consult with the recipient countries to find out what they need most and what we are best at, to make the best solution while providing aid," she said.
Nyongesa, the Kenyan analyst, said aid from China has been aligned to Africa's Agenda 2063, the continent's development blueprint. The eight major initiatives announced at the Summit of the Forum on China-Africa Cooperation in Beijing last year overlapped with Africa's development priorities as well as individual development strategies.
President Xi Jinping announced an additional $60 billion in funding to largely facilitate improved railway systems, transportation and energy infrastructure, in addition to public health and industrialization. Nyongesa said, "These are areas that underpin Africa's structural transformation that is expected to lift millions out of poverty."
China has also been able to develop financing models to match African countries' economic capacity.
Mutambo, from the University of Johannesburg, said that to sustain cooperation, the Sino-African relationship needs to gradually move from a government-to-government to a private-to- private connection. "The private sector can benefit more if the African and Chinese governments promote responsive and good leadership, aspects which are often limitedly assessed under the scope of non- interference," Mutambo added.