Source:the Freshwater Fisheries Research Center of the Chinese Academy of Fishery Sciences
Under the framework of South-South cooperation and sponsored by the Ministry of Commerce of China, the "2019 Training Course on Fishery and Aquatic Product Processing in Eritrea" implemented by the Freshwater Fisheries Research Center of the Chinese Academy of Fishery Sciences came to a successful conclusion with a grand closing ceremony on December 19. Mr. Yang Zigang, China's ambassador to Eritrea, Mr. Wang Lipei, economic and commercial counselor of Chinese Embassy, Mr. Tewelde Kelati, minister of Marine Resources of Eritrea together with other senior officials and more than 130 participants attended the closing ceremony. Entrusted by FFRC director general Prof. Xu Pao, Mr. Jing Xiaojun, the department director for international cooperation chaired the closing ceremony. The Eritrean National Television Network has been tracing and making follow-up reports over the whole process of the training programme.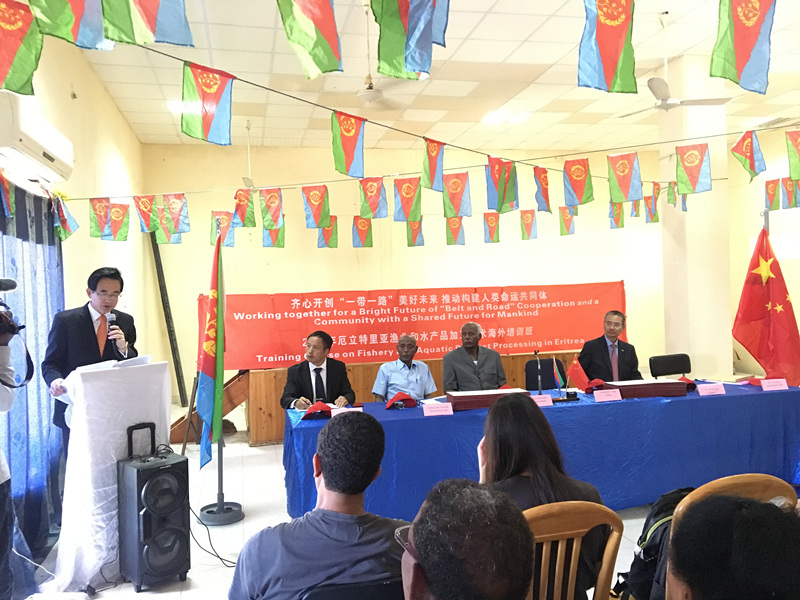 Chinese Ambassador Yang Zigang made a speech at the closing ceremony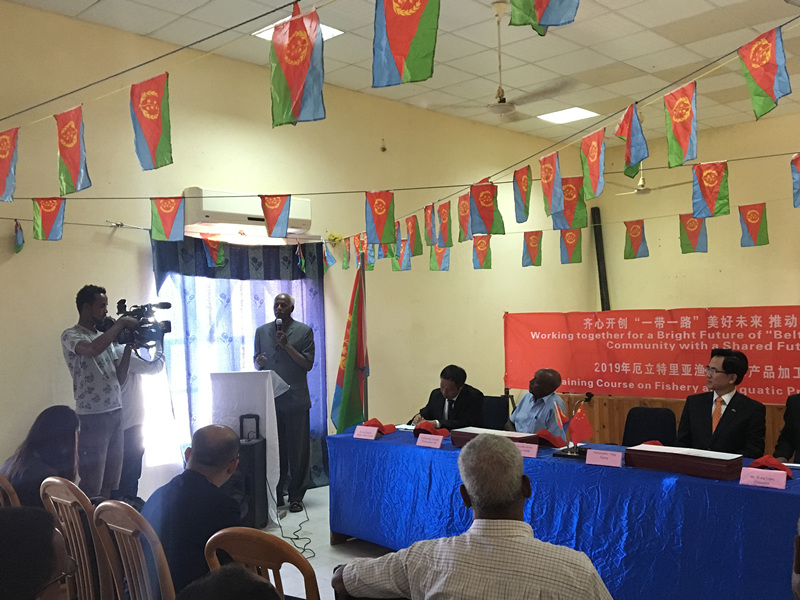 Minister Kelati delivered a speech at the closing ceremony
The training course lasted for 21 days. A total of 72 participants joined in the training, including officials and technicians in fishery administration, scientific research or technology extension under the Ministry of Marine Resources of Eritrea as well individuals from related enterprises or farms. Apart from the officially registered participants, the program also attracted many other local people to sit in the lectures, for accumulatively over 100 person-times. Based on the local realities in terms of fisheries development, Chinese experts designed and successively carried out six modules of teaching and experimental practice, with the themes of "construction of fishery management system", "industrial technology of marine capture fisheries", "marine aquaculture", "fish nutrition and feed development", "fish disease prevention and control", and "processing technology of aquatic products", which has enabled not only the successful dissemination of the advanced fishery technologies that China has accumulated but also the efficient sharing of China's experience and development philosophies.
Ambassador Yang Zigang and Minister Kelati confer certificates to participants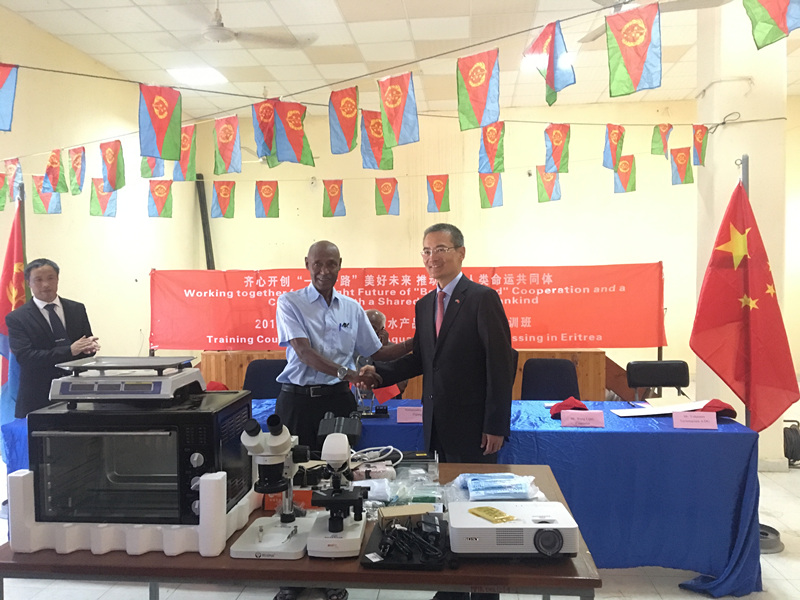 Counsellor Wang Lipei hands the programme instruments over to Eritrea
The implementation of the project was highly praised by Ambassador Yang Zigang, Counselor Mr. Wang Lipei, as well as the ministerial leaders, officials and participants of the Eritrean side. At the closing ceremony, Minister Kelati even signed a letter of thanks to FFRC showing his appreciation and gratitude to the Chinese counterparts. The two sides also exchanged opinions over the acceleration of fishery industry development of both countries and the future all-round cooperation for fishery prosperity and the construction of China- Eritrea community of shared future. China's top media, "People's Daily", also fully reported the training course and affirmed the effectiveness and fruitfulness of the programme.